Quelle place du sonore dans la production urbaine ? Éclairage par les postures et pratiques professionnelles dans le cadre du diagnostic sonore urbain
Based on a partial, often quantitative, negative and curative assessment of sound issues in urban projects, this article focuses on the way in which the various potential stakeholders of soundscape, consider the links between sound and urban space. For this purpose, this paper presents some results of a research project (Manola et al., 2017) involving several disciplinary fields (physical / acoustic, town planning, urban studies, geography, architecture) and funded by Agence de l'environnement et de la maîtrise de l'énergie (Ademe). The methodological approach of this research combines : bibliographic and documentary analyzes, field surveys and experiments (through workshops with professionals of the urban production and inhabitants, inspired by focus groups, and through a crossing seminar) on a single investigation / experimentation site : the garden-city of Stains (France). On this basis, the article aims to shed light on (1) the place and approaches of sound itself, in the practices and habits of the different professional groups ; (2) the tools mobilized by the different groups as well as their links to the "field" and to the "method" ; (3) the (power) relationships between these groups and the possibilities/conditions for taking sound issues into account in the urban fabric. Finally, we show the great diversity of approaches, tools and professional methods to invest the soundscape, and, nevertheless numerous continuing cognitive, organizational, strategic, financial and ideological resistances to a reinforced and transversal integration of the sound dimension in the production of the city.
Partant du constat d'une prise en compte partielle, souvent quantitative, négative et curative des enjeux sonores dans les projets urbains, cet article se focalise sur la manière dont les différents acteurs agissant (directement ou indirectement) sur le champ du sonore dans le cadre de la production urbaine, considèrent le sonore lui-même et envisagent la possibilité d'un diagnostic partagé de celui-ci. Pour ce faire, cet article relaie certains résultats d'une recherche (Manola et al., 2017) à l'articulation de plusieurs champs disciplinaires (physique/acoustique, urbanisme, études urbaines, géographie, architecture), financée par L'Agence de l'environnement et de la maîtrise de l'énergie (Ademe). La démarche méthodologique combine : analyses bibliographiques et documentaires, enquête de terrain et expérimentations (par des ateliers menés avec des professionnels de la production urbaine, inspirés des focus groups, et par un séminaire de croisement) sur un terrain unique d'enquête/expérimentation : la cité-jardin de Stains (Île-de-France). Sur cette base, l'article interroge (1) les approches du sonore dans les pratiques et habitudes des différents groupes professionnels ; (2) les éléments et outils mobilisés par les différents groupes et ce qu'ils révèlent des postures épistémologiques des professionnels vis-à-vis du « terrain » et de la « méthode » ; (3) les conditions de prise en compte des questions sonores dans la production urbaine. In fine, nous montrons d'un côté la grande diversité des approches, outils et démarches méthodologiques professionnelles existantes pour investir la question sonore, et de l'autre les nombreux verrous cognitifs, organisationnels, stratégiques, financiers et idéologiques qui persistent et résistent à une intégration renforcée et transversale de la dimension sonore dans la fabrique de la ville.
Fichier principal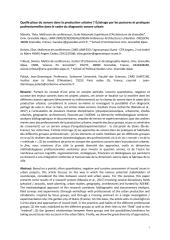 MANOLA_GEISLER_TRIBOUT_POLACK_2018_Place_Sonore_Version_Auteur_es.pdf (2.93 Mo)
Télécharger le fichier
Origin : Files produced by the author(s)